Frequently Asked Questions (FAQ)
Learn more about DC Streetcar service and how it compares to other local transit services. Reference the DC Streetcar glossary to get up to speed on the streetcar lingo.
FAQs – About Streetcar Service & Operations
How much does it cost to ride the streetcar?
DC Streetcar is free to ride. DC Streetcar will remain free to residents and visitors of the corridor until DDOT announces a change in fare policy.
What are the hours of operation for the streetcar?
As of April 4, 2020, DC Streetcar is running a reduced schedule:
Friday: 6:00 a.m. to 2:00 a.m.
Saturday: 8:00 a.m. to 2:00 a.m.
Sunday: 8:00 a.m. to 10:00 p.m.
How long is the wait at a streetcar stop before boarding?
DC Streetcar has roughly 12–minute headways, meaning that a streetcar arrives at a stop approximately every twelve minutes. Weather and traffic conditions can affect streetcar arrivals. 
Are strollers allowed onto DC Streetcar?
Yes. The DC Streetcar allows strollers on board using wide passenger doors that are level with the station platforms. In addition, the vehicles also accommodate bikes and wheelchairs.
Are bikes allowed onto DC Streetcar?
Yes. DC Streetcar allows bikes, space permitting. Use the center doors for level boarding. There are no internal or external bike racks, so please hold bikes upright while riding. In addition, the vehicles accommodate strollers and wheelchairs.  Please be aware that full streetcars may not have room for bicycles and board only when there is adequate space.
Are pets/service animals allowed onto DC Streetcar?
Yes, service animals are allowed on the streetcar without a crate or container. Pets are also allowed to board; however, all pets must be contained in a crate or container specifically manufactured for the safe transport of animals and must remain contained and restrained for the entire duration of the trip.
Is food allowed on the DC Streetcar?
Eating and drinking is not allowed on transit vehicles in DC, but the DC Streetcar is a great way to transport contained groceries and take out along the corridor.
What if I lose something on the streetcar?
If you have left an item on the bus, fill out our contact form as soon as possible. Please include the route you were on, time of day and description of the item(s). We will try our best to locate the item and return it to you. Learn more here.
Can I park along the streetcar route?
Street parking along H Street NE is metered and limited to 2 hours. Benning Road and neighboring street parking is limited and zoned.  Cars double parked on streetcar tracks or outside the white lines blocking the streetcar route are fined and towed. Parking lots are available at Union Station and The Fields at RFK. 
How do I get to the DC Streetcar?
The DC Streetcar currently includes 8 stops. Close access to stops includes the following: 
Union Station – All forms of transit including Amtrak, Metro (Red line), MARC, VRE, Commercial Buses, DC Circulator, Taxis, Metrobus (96, D6, D8, X2), Capital Bikeshare, and Parking Garage 
3rd St NE & H St NE – Metrobus (D8), Capital Bikeshare 
5th St NE & H St NE – Capital Bikeshare 
8th St NE & H St NE – Metrobus (90, 92), Capital Bikeshare 
13th St NE & H St NE – Capital Bikeshare 
15th St NE & Benning Rd NE Metrobus (B2, X2), Capital Bikeshare 
19th St NE & Benning Rd NE  
Oklahoma Avenue NE & Benning Rd NE – Capital Bikeshare, Fields at RFK Parking, 20 min walk from Stadium-Armory Metro (Blue/Orange line) 
What happens to the streetcar in inclement weather?
Streetcars can operate effectively in snow and rain conditions, but like all vehicles (including buses) they are subject to service limitations in severe weather and snowstorms. Service interruptions during severe weather are communicated via media, social media, and streetcar tracking tools. 
What happens if the streetcar breaks down or there is a car accident/incident that blocks the streetcar?
In the case of a streetcar accident or breakdown, the streetcar will be towed back to the maintenance area with a specialized vehicle. In the case of a car accident, emergency response teams will move the car away from the streetcar as soon as possible. Follow @DCStreetcar on Twitter for updates on service alerts.
Cars double parked on streetcar tracks are fined and towed.
FAQs – About Safety & Accessibility
Are the streetcars ADA compliant?
Yes. The modern streetcar's interior layout is designed to accommodate wheelchairs and motorized scooters using wide passenger doors that are level with the station platforms. The streetcars have level floor areas with substantial standing areas to accommodate wheelchairs and motorized scooters. In addition, vehicles also accommodate bikes and strollers.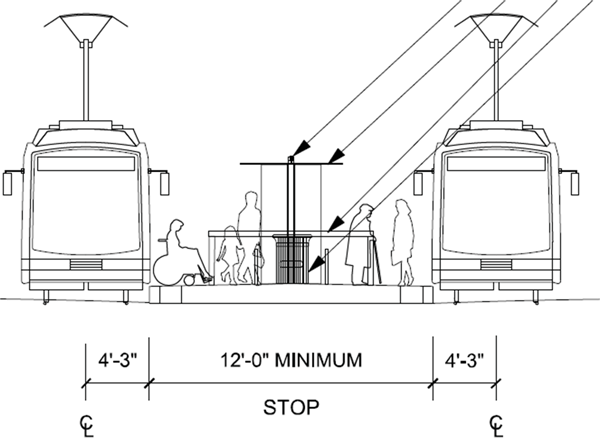 Are stops announced inside the streetcar?
Upcoming stops are announced on board. 
How do I learn more about streetcar safety?
Visit the safety section to get more details on how to be safe in and around streetcars.
Do streetcar rails have an electric current?
No. The rails do not contain an electric current. The rails are safe to walk on, but bicyclists should ride perpendicular and never parallel to tracks to avoid getting their tires stuck in the tracks. 
Is there security on the DC Streetcar?
Local police visit the station stops as part of their regular patrols, and streetcars have security personnel on board.  
What is a streetcar?
Streetcars are passenger vehicles that operate on fixed rails on public streets. The vehicles can operate in mixed traffic and/or a separate right of way. The DC Streetcar is a "modern streetcar" – air conditioned with a low-floor. The low floors allow for faster and easier boarding. 
How big is a streetcar?
How fast does a streetcar go?
Streetcar operates at speeds like local buses, not exceeding the posted speed limit and keeping up with the flow of traffic.  For most of the corridor, the streetcars follow existing traffic signals. 
How is a streetcar different from light rail or a train?
Although streetcars and light rail vehicles use similar technologies, they do differ. Streetcars are typically smaller, lighter, less expensive, and usually operate in mixed traffic, rather than in their own exclusive right of way.  
Streetcar systems can be built more rapidly, are more cost-effective, and cause less disruption to businesses and communities during construction in comparison to light rail. Streetcars can stop more frequently and offer a more flexible service appropriate for city neighborhoods.  
Light rail is generally used for regional transit with relatively fast-moving, large cars designed to transport high numbers of people rapidly between suburban and urban areas. Heavy rail (similar to Metrorail here in the DC metro area) can also be used for regional and long-distance transit. 
Are streetcars noisy?
Streetcars are no louder than a typical bus. Powered by quiet electric motors, streetcars use a pole and a pantograph to collect power from an electrified wire that is suspended approximately 20 feet over the lane in which the streetcar runs. Noise from a streetcar is generated from the wheel to track movement, rather than from the engine, like a bus. 
Do streetcars produce vibrations you can feel when it passes by, like a large truck or bus?
Yes. Vibrations from a streetcar are about the same as those made by a DC Circulator bus. 
FAQs – Streetcar Signalization
Does the H Street NE/Benning Road Streetcar run in the median or in the curb lane?
Both! At the top of the Hopscotch Bridge the streetcar begins in the median, then moves curbside at the base of the bridge until the Starburst Plaza, when it becomes center-running again down Benning Road. 
How do streetcars manage these lane-crossings in a busy street of mixed traffic, alongside other cars and pedestrians?
For most of the corridor, the streetcars follow existing traffic signals. In locations where the streetcar must cross active lanes of vehicular traffic, additional streetcar-only signals were installed. These new signals are located at the Western Turnaround (3rd Street NE), the Starburst intersection (15th Street NE), the entrance to the Car Barn Training Center (24th Street NE) and the Eastern Turnaround (Oklahoma Avenue NE). The controls tell the streetcar operators when it is safe to proceed through an intersection or across shared lanes. 
What do the streetcar-only signals look like?
Although the streetcar signals are housed in similar boxes to vehicular traffic signals, there's no mistaking them for your standard green, yellow, or red lights. Rather than using solid colors to direct the streetcars, lighted red or white lines are used instead. The signal heads are illuminated with a horizontal, diagonal, or vertical line, depending on where the streetcar is going. The default position of any train control signal is the stop position, indicated by a horizontal red line. When the streetcars may proceed through an intersection, the streetcar signal illuminates with a white line, pointed in one of three directions: left, right or horizontal. 
How does the DC Streetcar-only signal detect a streetcar is present?
Several unseen actions must take place before the signal lines are visible to the public. Loop detectors embedded in the streetcar tracks detect the presence of a streetcar and activate only when streetcars approach. The operator pushes a button inside the streetcar vehicle that communicates the streetcar's direction to the automated control system. A series of automatic checks takes place and the streetcar signal only changes when it is safe to do so. 
When is it safe for motorists to drive through intersections and pedestrians to safely cross?
It is important to pay close attention to all signals. Normal vehicular operations and pedestrian crossings can continue once the streetcar moves across the intersection and the vehicular traffic signals turn green. In most cases, a red vehicular signal means the streetcar signal is green. 
How else can passengers keep safe during streetcar operations?
As always, pedestrians and motorists should use caution when crossing intersections. Remember to "Look, Listen, Be Safe!"